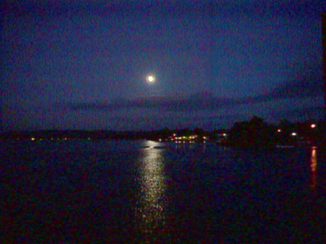 Full Moon
November 20th, 1997
Last night we received an email from Trish from Philly in the eastern USA. She just returned from Negril and we unfortunately missed her on her short visit. She mentioned in her email about the full moon we had last weekend - and we just happened to snap a picture of it, so Trish, here it is again! (Let me know if the Red Stripe gets you today...) Note: The Negril Chamber of Commerce has been listening to your comments and have a new message today. Click here to read the latest from the Chamber. Also, we have updated the Mariner's Inn pages - give them a click and let them know what you think mon! And finally, in today's Back Ah Yawd, Delroy and Robert are discussing diving at Mariner's Inn. Click on Back Ah Yawd for more latest mon!
At 7:43 am, same as yesterday... The temperature is 78° F, 26° C.






© Copyright 1997. Beingee's. All Rights Reserved.