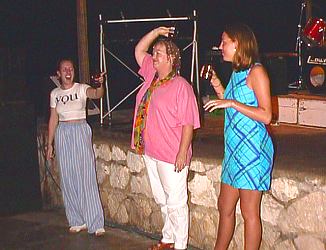 We Have A Winner!
November 19th, 1997
Last night on the cliffs at Mariner's Inn, Teresa from San Francisco, California, USA was the winner of the Women's beer drinking contest. Great job Teresa! (Click here to hear a 368K sound clip from the Sunset Show at Mariner's Inn). Speaking of winners, we also have a winner in yesterday's quiz - it was an easy guess for Mary Jane, as she spent this past weekend with us at that location. She correctly guessed Pirate and Estelle's new place - the R Bar at Tigress III. And we will all be there this weekend for the Beingee's Internet Gathering coming up on Saturday the 22nd at sunset. Pirate will be taking us on a pub and restaurant crawl to his favorite spots around Tigress Lane! Estelle extends a special invitation to all those staying at Negril's all-inclusive hotels to stop by for the party! Yah mon! Back Ah Yawd continues today with Delroy visiting with Vee at her shop across from Mariner's Inn. Click on Back Ah Yawd for more latest mon!
At 7:44 am, thin, hazy clouds above. The temperature is 78° F, 26° C.






© Copyright 1997. Beingee's. All Rights Reserved.