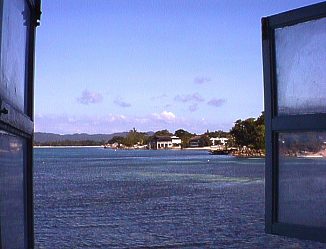 Quiz Day
November 18th, 1997
Where are we? Be the first one to correctly identify by email where this picture was taken and receive a beverage of your choice there courtesy of Beingee's! Good luck mon! Just to be fair, only your first guess counts. News: The USA's Thanksgiving holiday is coming up next week and the Charela Inn once again will be the place for the turkey feast. Click here to look at the Thanksgiving's Day Menu at the restaurant Le Vendome at Charela Inn! What a feast! And we have to mention that our Reggae Boys are bound for France! The draw with Mexico over the weekend has sent us on our way! Look for the Reggae Boys at the World Cup - in fact, yesterday was declared a national holiday mon! Following along with celebration, today's installments of Back Ah Yawd has Delroy visiting with Vee yesterday. Click on Back Ah Yawd for more mon!
At 8:38 am, you should be here... The temperature is 79° F, 26° C.






© Copyright 1997. Beingee's. All Rights Reserved.