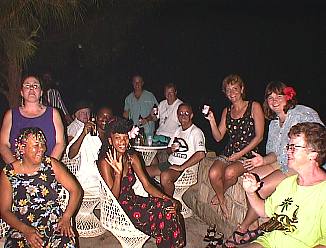 Live From R Bar
November 22nd, 1997 LIVE 6:36pm
We are live from the first of our Beingee's Internet Gathering at R Bar in Negril Jamaica. Here is the gang at Pirate and Estelle's likkle party on the cliffs. We are uploading page from across the road at Mama B's. Look for us on the Chat Room in a few minutes and only for a few minutes as we are borrowing phone lines. Keep checking the message board and the chat room for us mon!
In today's Back Ah Yawd, Delroy drops by Miss Spycie's Shop across from Mariner's Inn. Click on Back Ah Yawd for the latest episode!
At 6:36 pm, see you at the pub crawl at about 5:30. The temperature is 90° F, 32° C.






© Copyright 1997. Beingee's. All Rights Reserved.