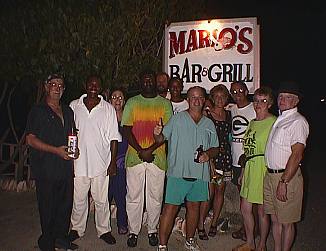 Live From Mi Music Yard
November 22nd, 1997 LIVE about 9:00pm
No one knows what time it is and Jimmy Buffett is playing something about a Holiday Inn on the sound system - so the party is in full swing at Mi Music Yard on the West End in Negril. Pirate took the crew shown in this picture from Marios's (known for their their house speciality - Estelle says it is to die for...) This will be our last update from this evening - the Guinness I consummed during the OSU-Michigan game has taken it's toll on the brain cells trying to manage this LIVE nioght on the net. The Pirate has informed me that we are doing this again next week. See you then! In today's Back Ah Yawd, Delroy drops by Miss Spycie's Shop across from Mariner's Inn. Click on Back Ah Yawd for the latest episode!
At 9:00 or so pm, see you tomorrow. The temperature is irrelavent.






© Copyright 1997. Beingee's. All Rights Reserved.