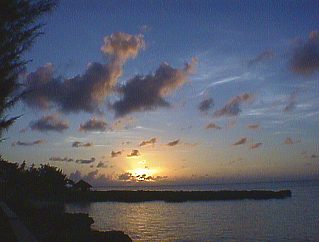 Pirate's Sunset
November 16th, 1997
This week's Sunday Sunset of the Week was taken on Thursday evening with the Pirate and Estelle at Tigress III. The Pirate and Estelle, who you may know from the Negril Message Board, are planning their Beingee's Internet Negril Gathering on November 22nd! Join us at sunset on the 22nd at Tigress III - on the West End and right on the water mon! This will be a great way time - Pirate will be leading a small pub and restaurant crawl to some of his favorite places around Tigress Lane - see you there! Estelle still wants me to send out a special invitation to all those staying at Negril's beautiful all-inclusive hotels to stop by for the party! Note: we have been experimenting with panoramic views for some time now - we have two styles. For a Java enhanced view, click here to see a picture taken from Hilltop Villas and Apartments. It will take a few moments to load - let us know what you think! For a non-Java panoramic, click here to see a picture from Mirage - let us know which style you prefer mon! Finally, in case you have missed any previous installments of Back Ah Yawd, be sure to check out the Index Pages which can be found in the Reference section of our Main Menu. Or you can click on Back Ah Yawd to check it out!
At 12:04 pm, an awesome blue sky mon! The temperature is 85° F, 29° C.






© Copyright 1997. Beingee's. All Rights Reserved.