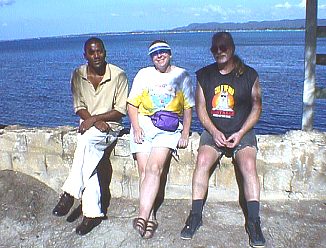 Estelle and the Pirate
November 15th, 1997
They finally made it mon! For those who have been following the Negril Message Board, Estelle and the Pirate are now in sunny and warm Negril for the winter and are getting ready for their Beingee's Internet Negril Gathering on November 22nd! They have a great evening of fun planned - starting at sunset at Tigress III - right on the water mon! The whole Beingee's crew will be there so we hope to see you at Tigress III. This is the perfect way to visit with new friends and meet some of the locals! The Pirate has planned a small pub and restaurant crawl to show off all his favorite places in the area - you will miss some great times and food if miss this one! (Note: Estelle wanted me to send out a special invitation to all those staying at Negril's beautiful all-inclusive hotels to come on out and join the fun on the 22nd at sunset!) Today's Back Ah Yawd has Delroy metting with craft vendor Anns during the Roots Bamboo Wednesday Night Sea Side Bash. Click on Back Ah Yawd to check it out!
At 9:02 am, perfectly beautiful mon! The temperature is 83° F, 28° C.






© Copyright 1997. Beingee's. All Rights Reserved.