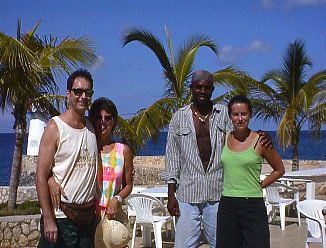 Ray and Anne, Robert and Helen
November 14th, 1997
Yesterday morning at Mariner's Inn we had the good fortune of running into a couple of daily viewers - Ray and Anne from Toronto, Canada (left). They were enjoying a great ocean front breakfast at the Lifeboat Restaurant on the majestic cliffs of Mariner's Inn. Ray told us that they logged on the this website from the plane - that's a first in our book mon! In today's picture, Ray and Anne are joined by diving companions Robert and Anne (right - Anne is from Merry Old London, England). Let us know how was your return flight! Note: we have made contact with Estelle and the Pirate! Look for an update with them tomorrow mon! Back Ah Yawd continues today with Everton during the Roots Bamboo Wednesday Night Sea Side Bash. Click Back Ah Yawd to find out what's happening!
At 8:11 am, just about caught up on the mail! Temperature is 81° F, 28° C.






© Copyright 1997. Beingee's. All Rights Reserved.