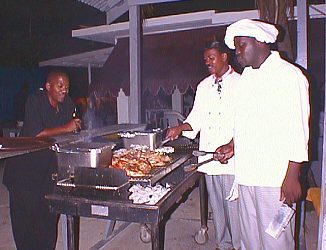 Beach Grill
November 13th, 1997
There is more than live reggae at the Wednesday and Sunday night shows at Roots Bamboo. At each show, Roots fires up the beach grill and serves up some of the best food available on the soft white sands of the Negril beach. Grilled lobster, a cold Red stripe and live reggae on the beach! It doesn't get much better than that mon! Note: there has been some problems recently with some of our sponsor hotels email - if by chance you emailed them this weekend and got no reply - please try again mon! Thanks! Today's Back Ah Yawd has Everton the Burgerman meeting with Delroy over some fried fish at the Roots Bamboo Beach Grill during the Wednesday Night Sea Side Bash. Click Back Ah Yawd to find out what's happening!
At 7:33 am, the phone is fixed... and the temperature is 81° F, 28° C.






© Copyright 1997. Beingee's. All Rights Reserved.