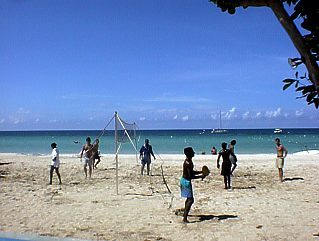 Pon Di Beach
November 12th, 1997
This week we have been mentioning the upcoming shows that Roots Bamboo is planning for rest of this year "pon di beach mon". So today we would like to tease you with a sunny shot of the beach (taken yesterday at Negril Gardens). Just imagine, if you were in Negril today you could join us for the Wednesday Night Reggae Sea Side Bash at Roots! I'll get the first round mon! Note: the Christmas Eve Bashment is set for Roots Bamboo - keep checking out the Shows & Events listing for more details. In today's Back Ah Yawd, Errol Polka Dot and Delroy chat at the Sunday Night Live Show at Roots Bamboo. Click Back Ah Yawd to find out what's happening!
At 7:58 am, found a phone at Serious Chicken. The temperature is 79° F, 26° C.






© Copyright 1997. Beingee's. All Rights Reserved.