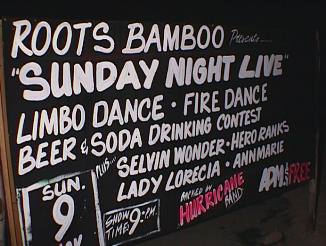 More Music News!
November 11th, 1997
The roots of all reggae on the beach has done it again mon! Roots Bamboo, the place for live reggae on Wednesday night has expanded their program with their Sunday Night Live Show! Each Sunday, Roots Bamboo presents only the best in live raggae and Jamaican entertainment - "right pon di beach mon!" As the sign says, there will be contests, limbo and fire dancers - so be sure to join the fun every Sunday at Roots Bamboo. We are also hearing some rumors about a big Christmas Eve bashment at Roots - keep checking out the Shows & Events listing for more mon. You can find in the Entertainment section. Irie! Back Ah Yawd continues with Errol Polka Dot at the Sunday Night Live Show at Roots Bamboo. Click Back Ah Yawd to find out what's up!
At 6:46 am, off to find a working phoneline. The temperature is 75° F, 23° C.






© Copyright 1997. Beingee's. All Rights Reserved.