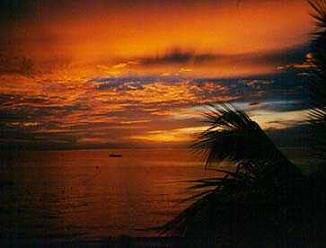 Dave's Sunset
November 9th, 1997
We would like to thank Dave from Illinois, USA for this week's Sunday Sunset of the Week! Dave took this glorious sunset back in August '97 and he will be returning next February. If you would like to contact Dave, click here to email him direct! Thanks Dave! To see one of your own pictures on the net - feel free to send us your graphics - to make it easy, send it to us in a JPG format. We are looking forward to your submissions mon! Back Ah Yawd continues with Delroy and Inge at Cafe Coconut, discussing the new Lighthouse Inn Mento Yard Party at Central Park. Click on Back Ah Yawd for more!
At 10:22 am, blue upon blue. The temperature is 80° F, 27° C.






© Copyright 1997. Beingee's. All Rights Reserved.