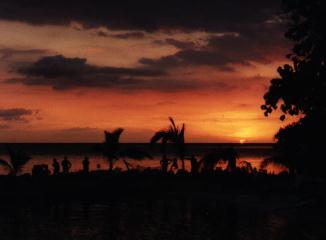 Halloween Sunset
November 2nd, 1997
This week's Sunday Sunset of the Week was taken on the nude beach at Hedonism II. Doug B. sent us this sunset picture that he took last year on Halloween as the sun set into the mysterious Caribbean Sea. Thanks Doug! Doug is spending a couple of well deserved weeks at Hedonism II - taking time off from the hectic pace of everyday life. If you like today's sunset graphic, you can download a larger copy you can use as a Windows background (be sure to convert the JPG file to BMP format after downloading). Click here to download the picture mon! Today's Back Ah Yawd continues at Travellers Beach Resort with Neville. Click on Back Ah Yawd for the latest episode!
At 7:11 am, perfectly clear. The temperature is 75° F, 24° C.






© Copyright 1997. Beingee's. All Rights Reserved.