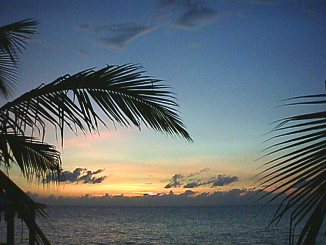 Sunset of the Week
November 30th, 1997
This week's candidate for the best sunset of the week was taken last Thursday on the romantic cliffs of Xtabi Resort in sunny and WARM Negril! News: sorry about not having any live updates from Mi Music Yard and the Spanner Banner Show last night - but my battery died before I thought it would (I forgot about the drain the modem was taking...) We did have a great Chat session from the Negril Yacht Club and want to thank all those who joined us. We will be moving the Internet Gathering from Saturday to Thursday this week - so be ready for us on Thursday the 4th mon - and an invitation is sent out to all those heading to Negril to attend as well. The party starts at sunset at the R Bar at Tigress III. Back Ah Yawd has Delroy chatting with Donovan at Xtabi Resort. Click on Back Ah Yawd to check the party mon!
At 8:41 am, what blue mon - incredible! The temperature is 79° F, 26° C.






© Copyright 1997. Beingee's. All Rights Reserved.