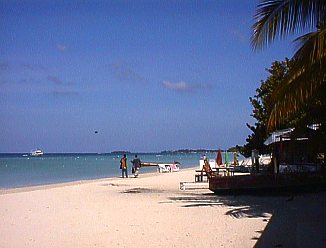 Another Day
December 1st, 1997
Just another day in paradise mon! Today's picture was taken this weekend from the beach at Rondel Village - our newest hotel sponsor! Look for them later this week in our Where To Stay Section. We have other news today - if you missed our Special Thanksgivings Day Sound Clip - be sure to click here to visit last Thursday's page (or you can click on Previous to back through each daily page until you get to the page). We had a great Chat session from the Negril Yacht Club at the Internet Gathering and you are invited to join us this Thursday the 4th live on in the Chat Room. An a special invitation is sent out to all those heading to Negril to attend. The party starts at sunset at the R Bar at Tigress III. Finally, we had another entry for the Sunset of the Week yesterday. Click on Previous to check it out. In today's Back Ah Yawd, Delroy discusses the secrets of jerk chicken with Devon across from Mariner's Inn. Click on Back Ah Yawd for the latest episode!
At 8:11 am, the sun has entered the building! The temperature is 80° F, 27° C.






© Copyright 1997. Beingee's. All Rights Reserved.