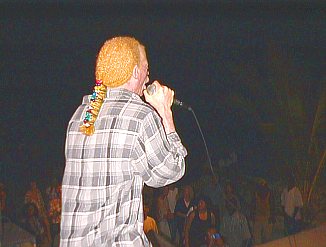 Sam Sara and the King
December 2nd, 1997
Sam Sara has done it again! The Monday Night Concert Series at Sam Sara Hotel is back in full swing. Last night the reveling crowd was entertained by none other than the King himself - King Yellowman! And as a special gift from Sam Sara and Yellowman, we have a 400K WAV file sound clip for you to hear! Just click here and enjoy - for any of you who have seen Yellowman, this will no doubt bring back a few memories! A big thanks to the folks at the beautiful Sam Sara Hotel! (Remember, you can write to Sam Sara directly from their pages in the Where To Stay section). News: this week's Internet Pub Crawl is taking place on Thirsty Thursday, December 4th at sunset at the R Bar at Tigress III. Our Negril Chat Room will be busy - so be sure to join the Pirate, Estelle, Denise, Dick, The Beingee's Gang, Royce and the rest either here in Negril or online! See you there mon! Note: the Negril Chat Room address link will be posted on the Negril Message Board that evening. In today's Back Ah Yawd, Delroy and Garth make an attempt at long distance communication at Xtabi Resort. Click on Back Ah Yawd for the latest episode!
At 8:03 am, too early after a show like that... The temperature is 79° F, 26° C.






© Copyright 1997. Beingee's. All Rights Reserved.