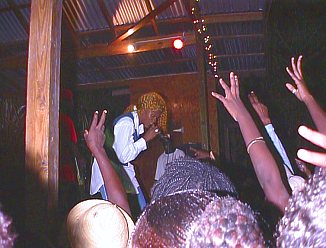 Lady Saw
December 3rd, 1997
The hardest working woman in show business showed up at DeBuss and what a performance! Lady Saw, feeling a likkle blonde last night, worked the crowd to a fever pitch and then delivered what can only be described as an incredibly inspirational show - her power came through loud and clear to all the cheering fans in the audience! Don't miss her if she is visits your area, she is awesome! I'd like to take a moment and personally thank Lady Saw for all her work in the prevention of AIDS as well as for for taking time out of her busy schedule last night to talk with us for a few moments - it was a real honor to meet such a fine lady. Look for her in an upcoming special edition of Back Ah Yawd! Speaking of Back Ah Yawd, today's Back Ah Yawd has Delroy and Garth discussing things on the spectacular cliffs at Xtabi Resort. Click on Back Ah Yawd for the latest mon!
At 7:33 am, calm, clear and quiet. The temperature is 73° F, 23° C.






© Copyright 1997. Beingee's. All Rights Reserved.