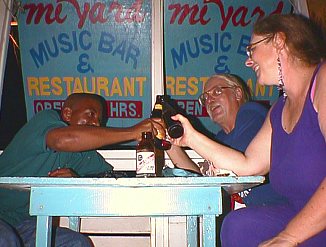 Pub Crawl Tonight
December 4th, 1997
Delroy, the Pirate and Estelle are gearing up for tonight's Thirsty Thursday Pub Crawl. Look for us this evening LIVE on the Negril Chat Room - we will be posting the address for you to join us on the Negril Message Board later today - be sure to click in and join us! The Pirate has a special evening planned. We will be taking a stroll up Tigress Lane and visit a bar or two off the beaten path. Look for us sometime after 7:00pm JA time - LIVE in the Negril Chat Room! We will even have special edition Negril Today updates as well. (note: today's picture was taken at Mi Yard Music Bar after we finished last week's pub crawl, not early this morning <grin>) Back Ah Yawd has moved on to the Fi Wi Vendor's Plaza where Delroy runs into Wayne at Mr. Peck's Music Shop. Music is their topic for discussion this day! Click on Back Ah Yawd for the latest mon! Also, be sure to stop by the Fi Wi Vendor's Plaza (near the Post Office). The new Beingee's office is located next to Negril Chamber of Commerce - if we aren't in, drop in the Chamber's office and let us know you stopped by. And don't forget to say hi to Wayne and all our other friends in the Plaza shops! Irie mon!
At 7:25 am, a calm and flat sea. The temperature is 72° F, 22° C.






© Copyright 1997. Beingee's. All Rights Reserved.