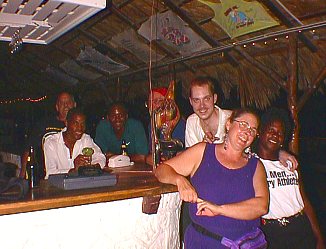 We Are Live
November 29th, 1997 8:00pm
We are LIVE from the Negril Yacht Club (sometimes known as the Lone Star Hotel as well as some other names) with Delroy, Rob, the Pirate, Estelle, Peter N, Donna, Dan and Bailey and we wish you were here. In fact, we decided to record you a small clip - click here to hear our small WAV file from this week's Internet Pub Crawl! WE will be live again shortly Mi Music Yard and the Spanner Banner concert tonight at Club Palm. Keep watchin for more mon! Back Ah Yawd is taking place at the Wednesday night Mento bashment at Central Park. Click on Back Ah Yawd to check the party mon!
At 8:00 pm, Peter is missing Geri! The temperature is 83° F, 28° C.






© Copyright 1997. Beingee's. All Rights Reserved.