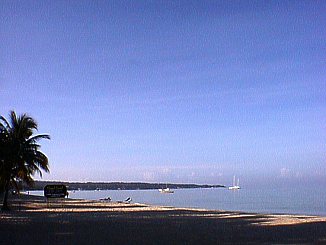 Morning Beach
November 29th, 1997
What a morning mon! Why aren't you here? It is a glorious morning in Negril, as this picture proves. This picture was taken just before 8:00am this morning on the beach in front of Rondel Village. We are proud to announce that Rondel will soon be added to our list of sponsor hotels. Our sponsor hotels, who can be found in our Where To Stay, are the reason this website is here mon! Without their support, there would be no Beingee's Internet Negril. If you like this website and want to support us, be sure to book your next stay online with one of our sponsor hotels! You can email the hotels directly from their pages! Thanks mon! Note: we had a fun sound clip from the Mento music from Wednesday night's Mento Yard Reggae Party at Central Park. You can click here to download the 245K WAV file - there are some crowd noises, but you should still enjoy it. Back Ah Yawd is taking place at the Wednesday night Mento bashment at Central Park. Click on Back Ah Yawd to check the party mon!
At 8:30 am, a near blueout! The temperature is 80° F, 27° C.






© Copyright 1997. Beingee's. All Rights Reserved.