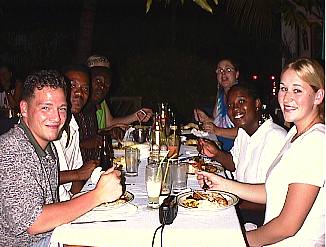 Thanksgiving
November 28th, 1997
The American holiday, Thanksgiving, was celebrated last night by many Americans visiting our tropical shores. We were invited to join Ted and Heather for this US tradition at the Lighthouse Inn. We enjoyed quite a feast of roasted turkey with all the fixins, expertly prepared by the Lighthouse Inn staff. Ted and Heather (shown here in the foreground), have been featured before in our Guest Gallery, and it was really nice to get to spend some time with them. Thanks Ted! Thanks Heather! If you missed it yesterday, we have some music news for you! (You can click on Previous to visit yesterday's page) Negril's only reggae park - Central Park has gotten together with Penny and Inge at the Lighthouse Inn for a Wednesday night Mento Yard Reggae Party. Each Wednesday night you can find fabulous food and some of the best Mento and Reggae music at Central Park on the West End - right across from the famous Mariner's Inn! And a special show of thanks yesterday, we had a fun sound clip from the Mento music! You can click here to download the 245K WAV file - there are some crowd noises, but you wil still like it mon! Today's Back Ah Yawd is taking place at the Wednesday night Mento bashment at Central Park. Click on Back Ah Yawd to check the party mon!
At 8:00 am, nothin' but blue!. The temperature is 80° F, 27° C.






© Copyright 1997. Beingee's. All Rights Reserved.