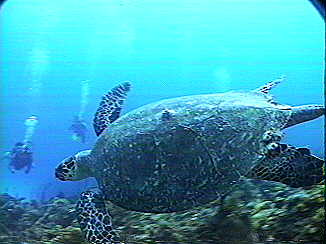 In Action

29th, September 1996

The turtle, shown near one of Negril's most popular dive sights, the Throne Room, is probably over 200 years old. This information comes from Buddha, the man behind the camera for this picture. He runs Video-Me Productions - your dives with can be captured on video. See him at the Negril Scuba Centre. Yah mon! Also, check out the latest on October's Halloween Dance Again Festival for Deadheads and Friends!


At 10:21 pm, a starry night after a gorgeous sunset. The temperature is a cool 80° F., 27° C.