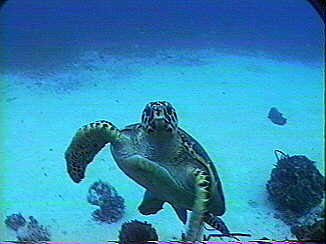 Under Sea Friend

28th, September 1996

The sights you can see on the beach are great, but wonders await just yards off the shore. We end our beach tour and take a deep plunge into the crystal clear depths of our Caribbean Sea. Today's picture is courtesy of the Negril Scuba Centre, located on the Negril Beach Club grounds. The turtle in question seems to be a loggerhead.

Click here or above on Page #2 for more information about the dive and our new friend.