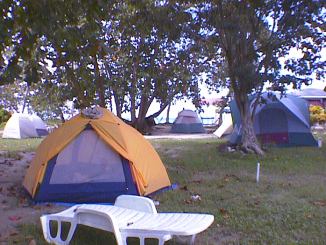 Beach Camping
November 26th, 1997
For those who like the real outdoors experience - Negril has just the thing mon! How about camping right on the Caribbean Sea! Yah mon! Grab your sleeping bag and head to any of the several places that allow camping on the beach - as shown here today at Roots Bamboo. Roots has been offering nature loving travelers the perfect place to their pitch a tent for years, with complete storage and shower facilities available. You can check Root Bamboo out in our Where To Stay section on the Main Menu. You can write directly to them with questions or reservations. Irie! Yesterday we unveiled the Bob McLeod Punch that was created at last Saturday night's Beingee's Internet Gathering at the R Bar at Tigress III. Be sure to join us each and every Saturday night either in person or online starting around sunset mon! In Back Ah Yawd, Delroy has stopped by the new Hospitality Training Program at Mirage Resort. The program is being run by the Negril Chamber of Commerce. Click on Back Ah Yawd for the latest episode!
At 10:50 am, the ocean awaits! The temperature is 83° F, 28° C.






© Copyright 1997. Beingee's. All Rights Reserved.