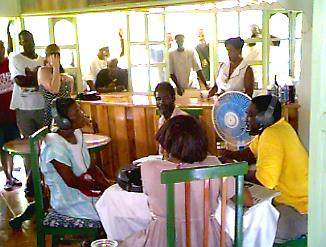 Straight Talk at Palm Court
August 26th, 1998
Wedenesday morning saw the Straight Talk radio call in program on KLAS being hosted at the Palm Court Restaurant at Papa's Tigress I on Tigress Court. The moderator and the show's main man, Mr. Winston Witter (far right - headphones) took control of the morning and handled the callers in his usual dynamic manner. Around noon time, there was a technical difficulty and the show took a break as the crowd that had gathered enjoyed some of Tigress I's great jerk chicken and ice cold Red Stripes. It did turn out to be a wild time as predicted on yesterday's page (the 25th - click on Previous above or below to check it out) and Tigress Court was buzzing with activity! A Big Up to the entire KLAS crew for their efforts - trust me - these things can be difficult to pull off! If you missed it yesterday, the NEN (Negril Entertainment Network) has been thinking about starting a morning broadcast/chat session, possibly from various locations around Negril and would like your opinion on it. If by chance you would like to hear or watch just such a broadcast, drop us a Bemail (above or below) and let us know what you think! Note: Back Ah Yawd is on medical break, it's author, Garth Beckford, is still down with a nasty summer flu - as soon as he feels up to it look for the next episodes of Back Ah Yawd!
At 2:40pm - a pleasant afternoon. The temperature is 87° F, 30° C.
Click here for Translation








This page is sponsored by Charela Inn on the beautiful beach of Negril. If you like this website, be sure your next visit includes a stop at the fabulous Charela Inn and Le Vendome Restaurant! Let them know you saw them here! If you want to be a sponsor, bemail us. Thanks!
Other area to visit in Jamaica:

© Copyright 1998. Beingee's. All Rights Reserved.