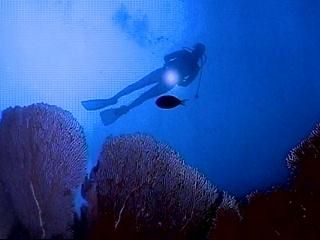 Marine Life Divers
August 27th, 1998
Being land based creatures, humans tend to forget that there is a whole other world to explore under the sea. In Negril, that world can come alive for you in all it's glory. Amazing spectacles await you in our salt water haven, the grand Caribbean Sea. Today we would like to introduce you to our latest sponsor - Marine Life Divers! Marine Life Divers is located at the Rock Cliff Resort on Negril famous West End, before you get to Roy & Felix's Serious Chicken. We would like to thank Marine Life Divers -and remember that exist with the help of sponsors such Marine Life, so please support them if you like this website and would like it to conitnue and improve - which it will with you help! Thanks to you and Marine Life Divers! Look for Marine Life Divers and other interesting things to do in our Things To Do section off the Beingee's Main Menu! Old Note: Back Ah Yawd is still on medical break, Garth Beckford, has a nasty summer flu - as soon as he feels better look for the next generation of Back Ah Yawd!
At 3:09pm - an overcast afternoon. The temperature is 87° F, 30° C.
Click here for Translation








This page is sponsored by Charela Inn on the beautiful beach of Negril. If you like this website, be sure your next visit includes a stop at the fabulous Charela Inn and Le Vendome Restaurant! Let them know you saw them here! If you want to be a sponsor, bemail us. Thanks!
Other area to visit in Jamaica:

© Copyright 1998. Beingee's. All Rights Reserved.