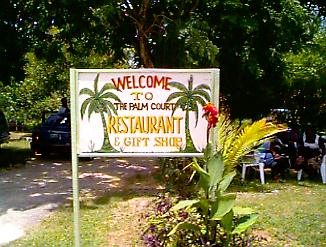 Palm Court Party
August 25th, 1998
On Wedenesday morning the Palm Court Restaurant at Papa's Tigress I will be hosting the Straight Talk Morning Program on radio station KLAS with host Winston Witter. It should be quite a day on Tigress Court as the staff at KLAS bring their show to Negril. Straight Talk is a radio call in show on KLAS that allows Jamaicans to express there likes, dislikes or any other opinion they may have in a public forum, much as our own Negril Message Board. Winston is the moderator and keeps things under control. We will be attending the gathering which should be a big one - the morning talk show in Jamaica tends to get a rather large listening audience. Maybe we will get a picture of the event for you! By the way, the NEN (Negril Entertainment Network) has been thinking about starting a morning broadcast/chat session, possibly from various locations around Negril. If you get the chance, drop us a Bemail (above or below) and let us know what you think! Note: Back Ah Yawd is on medical break, it's author, Garth Beckford, has come down with a nasty summer flu - as soon as he feels up to it look for the next episodes of Back Ah Yawd!
At 2:40pm - a warm afternoon. The temperature is 90° F, 32° C.
Click here for Translation








This page is sponsored by Charela Inn on the beautiful beach of Negril. If you like this website, be sure your next visit includes a stop at the fabulous Charela Inn and Le Vendome Restaurant! Let them know you saw them here! If you want to be a sponsor, bemail us. Thanks!
Other area to visit in Jamaica:

© Copyright 1998. Beingee's. All Rights Reserved.