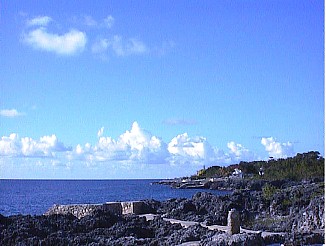 Cloud March
October 18th, 1997
Sitting back and doing nothing other than watch the clouds march can be a very rewarding way to spend a day in magical Negril Jamaica mon! Just you and your thoughts, that's all it takes. The winner of yesterday's quiz was Estelle who had the time to find the Stilt Sandpiper description of the bird can be found at http://www.mbr.nbs.gov/id/framlst/i2330id.html - it can also be found in Peterson's Field Guide "Birds of the West Indies" by Bond, James Bond. Yes, The James Bond! If you missed it this week, we have a great graphic from the people at the Blue Lagoon Villas. It is a stunning picture to be used as a Windows Background. This will be the first of a series of backgrounds that we will be bringing to you in the future. Keep watching, we should be bringing you about one month or so. For information on how to download it, click here. If you like it, be sure to thank the folks at the Blue Lagoon Villas. In today's Back Ah Yawd Delroy runs into Jervis on the road from Montego Bay to Negril. Click above on Back Ah Yawd for more mon!
At 8:47 am, perfect calm. The temperature is 78° F, 25° C.

© Copyright 1997. Beingee's. All Rights Reserved.