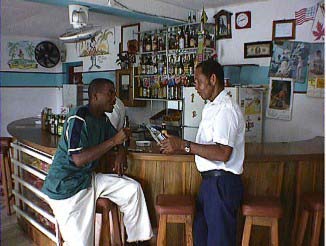 (setting: at the Golden Apple Club on the road from Montego Bay)
Delroy: Ah wah yuh dey drink?
Jervis: Soda water...
Delroy: Ha! Ha! I am drinking Guinness!
Jervis: Mi drink Guinness too mon...
Delroy: Di secrect in di bottle mon!
Jervis: Bwoy like how yu young ah dey feed pah it yu most strong!
Delroy: Fi real mon! (continued tomorrow)
******************** Written and Directed by Delroy Mosley ********************
The daily Back Ah Yawd page is sponsored by Drumville Cove on the mystical cliffs of beautiful Negril Jamaica. If you watch and enjoy Back Ah Yawd, make your next stay in Negril be at Drumville Cove! Support those that support us mon! Be sure to say hi to Delroy while you are there! If you want to be a sponsor, bemail us.

© Copyright 1997. Beingee's. All Rights Reserved.