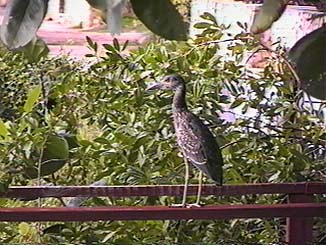 Guess Who?
October 17th, 1997
It is Friday and it feels like the time for another quiz. Today we are looking for the name of this Jamaican bird poised on the rail at Mirage Resort. To win, be the first person to email the correct answer and provide the address of a website that has either a definition or a picture of this bird. If you missed it yesterday, we have been given one great graphic from the people at the Blue Lagoon Villas. It is a stunning picture to be used as a Windows Background. This will be the first of a series of backgrounds that we will be bringing to you in the future. Keep watching, we should be bringing you about one month or so. For information on how to download it, click here. If you like it, be sure to thank the folks at the Blue Lagoon Villas. In today's Back Ah Yawd the discussion continues with Paul and Delroy on the cliffs at Mirage Resort. Click above on Back Ah Yawd to check it out! Irie!
At 8:20 am, calming blues... The temperature is 80° F, 27° C.

© Copyright 1997. Beingee's. All Rights Reserved.