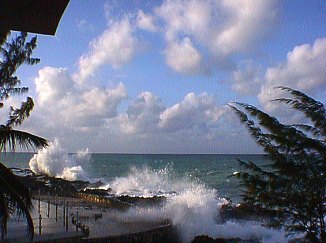 Wave Therapy
December 16th, 1997
Each year as the winter holiday season approaches, Mother Nature turns on her wave magic. Beholding the Caribbean in all it's glory, your thoughts drift away from your worries as nature's waves rise all around you. A moment to experience and cherish. Today's picture courtesy of Mariner's Inn. News: Inge from the fabulous Lighthouse Inn has announced her Christmas Dinner Menu - Pumpkin Creme Soup, Avocado Salad, Baked Ham or Roasted Turkey or Curry Goat or Lobster Grilled, Chocolate Cake with Coconut Ice Cream and Sorrel (the Original Jamaican Christmas Drink - have as much as you like)! Inge's food is wonderful, don't miss this one mon! The cost is US$30, for free transportation call 876-957-4052 or 876-957-0942. Back Ah Yawd is back, Deleoy is at the Negril Night Out at Central Park on Wednesday. Click on Back Ah Yawd to his visit with the Chemical Boyz!
At 8:26 am, the sea is cleaning itself... The temperature is 78° F, 25° C.
Click here for Translation






© Copyright 1997. Beingee's. All Rights Reserved.