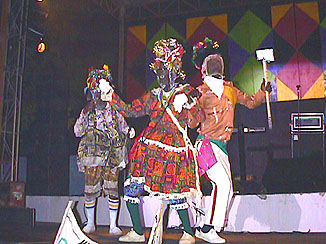 Negril Nite Out
December 11th, 1997
The Jonkanoo dancers were out as Captain Ansel Forkner brought the Grange Hill John Canoe Mascarade to Central Park last night. Inge, from the Lighthouse Inn, is bringing her Mento Yard Party to Central Park (across from Mariner's Inn) on Wednesdays and has added the Jonkanoo show - making this a real Negril Nite Out! Come on out and join her for a fabulous Jamaican dinner of curried goat, jerk pork, jerk chicken and grilled lobster. It will be an unforgettable experience mon. Inge wants to make you feel more a part of the party - click here to hear a 16K RealAudio file from last evening! News: The Thirsty Thursday Pub Crawl is tonight! Join us back here tonight for our weekly Pub Crawl after sunset, Jamaica time. We will be live from the Negril Chat Room at about 7:00pm or so. The address will be posted on the Negril Message Board later today. See you tonight! Please note: Next week's Thirsty Thursday Pub Crawl is being rescheduled for Saturday the 20th. Back Ah Yawd has moved on to Pirates Cave on Negril's West End. Click on Back Ah Yawd to see the latest mon!
At 8:10 am, a Caribbean morning! The temperature is 80° F, 27° C.
Click here for Translation






© Copyright 1997. Beingee's. All Rights Reserved.