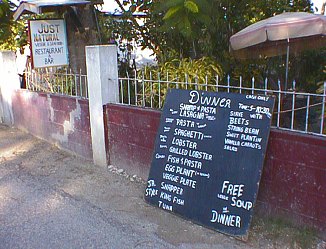 Vegetarian Cuisine
December 17th, 1997
One of the great things about a tropical vacation is trying out the local cuisine. If vegetarian food is your preference, then be sure make a stop at Just Natural Restaurant. Just Natural is located next to Xtabi Resort (which also happens to have an excellent restaurant on the cliffs). Today's picture shows Just Natural's daily selection of fresh dinner menu items, but their breakfast and lunch menus are not to be missed! A personal favorite of mine is the Calaloo Melt for lunch - yah mon! Today's Back Ah Yawd continues at the Wednesday Negril Night Out at Central Park, Delroy is talking with the Chemical Boyz, comic performers from Montego Bay. Click on Back Ah Yawd to check out the Chemical Boyz!
At 9:08 am, the sea is calm again... The temperature is 77° F, 24° C.
Click here for Translation






© Copyright 1997. Beingee's. All Rights Reserved.