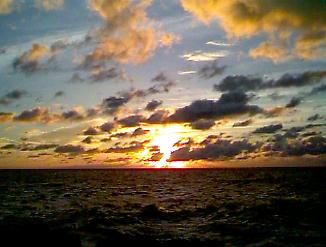 Sunset of the Week
March 15th, 1998
It is Sunday in Negril so today we have another of our Sunday Sunset of the Week's for you. Today's sunset was taken last night just before starting our live broadcast on the NEN from the Negril Yacht Club. What a perfect way to start the evening! And what an evening it was! People came in from all over Jamacia and traffic was backed up as Samsara hosted what may have been the biggest event of the year! Boyz II Men performed last night and you can catch it on MTV! Look for the times of the broadcast on MTV. A big up to Samsara and MTV for all there efforts! Delroy has been taking a break but is back today with a brand new episode of Back Ah Yawd - with the Parrotman! Click to check it out mon.
At 7:33am, early in the am. The temperature is 80°, 27° C.
Click here for Translation







This year's Spring Break Negril Today daily page is sponsored by MTV Springbreak Gear! If you like this website, be sure to give them a click mon and let them know you saw them on Beingee's! It really helps mon! If you want to be a sponsor, bemail us. Other area to visit in Jamaica:

© Copyright 1998. Beingee's. All Rights Reserved.