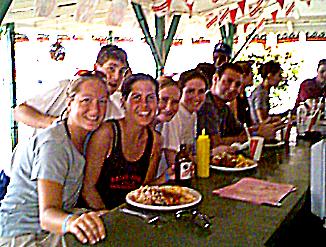 DeBuss for Lunch
March 16th, 1998
We were on the beach this afternoon getting ready for tonight's live broadcast from DeBuss on the Negril Entertainment Network (starts around 9:00pm). We joined up with some hungry Spring Breakers from the University of Vermont, who just happened to be sampling the lobster at DeBuss. Lauren, Ellie, Mary, Meredith, Seth, Laura, Jodi, Erika and Todd all want to say hi from Negril to all their friends back home in Vermont! The lobster was great, just as our live broadcast tonight should be - live from DeBuss - details on how to join us will be posted on the Negril Message Board. Delroy is taking a break from Back Ah Yawd today. In case you missed it, click here for yesterday's Back Ah Yawd - with the Parrotman!
At 2:43pm, an easy afternoon in Negril. The temperature is 83°, 28° C.
Click here for Translation







This year's Spring Break Negril Today daily page is sponsored by MTV Springbreak Gear! If you like this website, be sure to give them a click mon and let them know you saw them on Beingee's! It really helps mon! If you want to be a sponsor, bemail us. Other area to visit in Jamaica:

© Copyright 1998. Beingee's. All Rights Reserved.