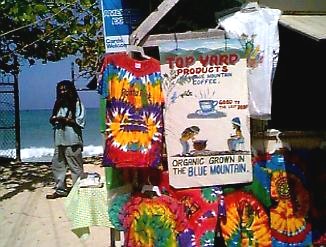 Gladstone's Coffee
March 14th, 1998
If you are looking for that perfect cup of Blue Mountain Coffee, look no further than the beach mon! Gladstone has opened his Top Yard Products Coffee Shop on the beach - in the craft market by the roundabaout. He still delivers his internet special - a special prices if you buy 10 pounds. And even better price if you purchase 20! Stock up next time in Negril - Blue Mountain Coffee - the best in the world! Delroy is taking a break, but in case you missed it, Delroy is on episode #268 of Back Ah Yawd - click to check it out mon.
At 7:22am, still quiet. The temperature is 79°, 26° C.
Click here for Translation







This year's Spring Break Negril Today daily page is sponsored by MTV Springbreak Gear! If you like this website, be sure to give them a click mon and let them know you saw them on Beingee's! It really helps mon! If you want to be a sponsor, bemail us. Other area to visit in Jamaica:

© Copyright 1998. Beingee's. All Rights Reserved.