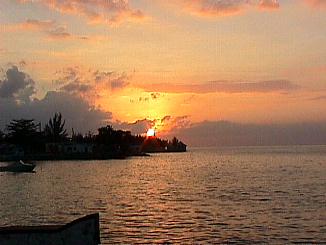 Sunday Sunset of the Week
March 8th, 1998
Our live broadcast on the Negril Entertainment Network (NEN) came to you from the Negril Yacht Club on Negril's West End. We started at sunset thanks to Chuck, the owner of the Yacht Club. Today's Sunday Sunset of the Week was taken by Dreadless, who also made us up some wicked NEN T-Shirts for us! We are going to be selling them to raise some funds for some new equipment - the sun and sand takes it's toll on the machines (not to mention the Ladas!) Look for more t-shirt details in the next few days. The Back Ah Yawd mon and your cyberjock Delroy is taking a break - so today we are still on the Spring Break tip #5 in Back Ah Yawd.
At 6:15pm, the sun is setting. The temperature is 84°, 28° C.
Click here for Translation







This year's Spring Break Negril Today daily page is sponsored by MTV Springbreak Gear! If you like this website, be sure to give them a click mon and let them know you saw them on Beingee's! It really helps mon! If you want to be a sponsor, bemail us. Other area to visit in Jamaica:

© Copyright 1998. Beingee's. All Rights Reserved.