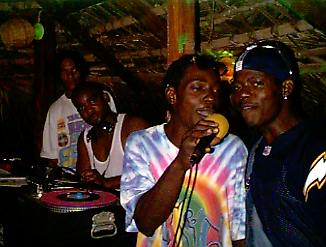 RondcoBondco Live from the Thatch Hut Bar
March 7th, 1998
Last night's broadcast from the Thatch Hut Bar on Tigress Lane was great and these men made it even better! RondcoBondco sang live and direct on the Negril Entertainment Network. The Thatch Hut even has a special we want to pass on to all the Spring Breakers - Red Stripes are $50JA or 2 for $90JA - a great place to conserve money mon! We should be back on-line on the NEN tonight from sunset at the Negril Yacht Club!And don't forget, your cyberjock Delroy has more Spring Break tip in his daily Back Ah Yawd page. Click on Back Ah Yawd for tip #5. Irie!
At 6:38pm, the sun just set. The temperature is 84°, 28° C.
Click here for Translation







This year's Spring Break Negril Today daily page is sponsored by MTV Springbreak Gear! If you like this website, be sure to give them a click mon and let them know you saw them on Beingee's! It really helps mon! If you want to be a sponsor, bemail us. Other area to visit in Jamaica:

© Copyright 1998. Beingee's. All Rights Reserved.