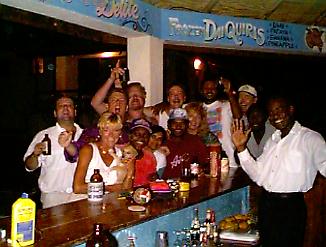 The Crew Drumville Cove
March 6th, 1998
Last night's Thirsty Thursday Internet Pub Crawl ended late as we moved on to meet Dave and his crew at Drumville Cove. We had some phoneline problems early on in the evening with the chat and broadcast. We even tried to get back on line at Drumville Cove - no luck mon - the Internet just wasn't cooperating last night. But don't let that keep you from joining us on our next Thirsty Thursday Internet Pub Crawl - next Thursday as usual - starting at Tenby's Tigress 3 - R Bar. We should be back on-line on the NEN tonight for the wild sponsor party at the 1998 Spring Break Headquarters, Risky Business! And don't forget, your cyberjock Delroy has more Spring Break tip in his daily Back Ah Yawd page. Click on Back Ah Yawd for tip #5. Irie!
At 7:19am, the sun is rising. The temperature is 73°, 25° C.
Click here for Translation







This year's Spring Break Negril Today daily page is sponsored by MTV Springbreak Gear! If you like this website, be sure to give them a click mon and let them know you saw them on Beingee's! It really helps mon! If you want to be a sponsor, bemail us. Other area to visit in Jamaica:

© Copyright 1998. Beingee's. All Rights Reserved.