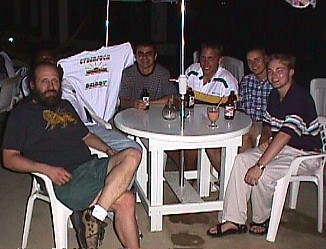 The Missouri Men
March 9th, 1998
At our live broadcast on the Negril Entertainment Network (NEN) on Saturday night from the Negril Yacht Club on Negril's West End, we partied with some Spring Breakers from Missouri, USA. They are the four guys on the right (Rumzie, Chris, Justin, and Travis) and they all had a great time. Delory is also displaying one of the new Negril Entertainment Network T-Shirts (available for a $25US donation) that were designed and printed by Dreadless (left). A big up to Dreadless for the work mon! Back Ah Yawd mon and your cyberjock Delroy is taking a break - so today we are still on the Spring Break tip #5 in Back Ah Yawd.
At 8:37am, the sun has risen. The temperature is 80°, 27° C.
Click here for Translation







This year's Spring Break Negril Today daily page is sponsored by MTV Springbreak Gear! If you like this website, be sure to give them a click mon and let them know you saw them on Beingee's! It really helps mon! If you want to be a sponsor, bemail us. Other area to visit in Jamaica:

© Copyright 1998. Beingee's. All Rights Reserved.