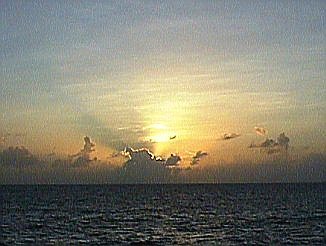 Sunset of the Week
December 14th, 1997
It's Sunday, so today we have the Sunday Sunset of the Week! Today's sunset was taken last evening and is brought to you by Inge and Penny of Lighthouse Village - a real vacation getaway in Negril. If you haven't done yourself the favor of looking at Lighthouse Village, be sure to click here and check them out mon! They are one of our sponsor hotels and are listed in the Where To Stay section on our Main Menu. You can email them directly with your reservations or questions - so feel free to ask mon! News: we are experimenting this weekend - yesterday we tried some new RealAudio clips and today we have another test panoramic of the majestic cliffs on Negril's West End. Click here to take a look at our latest panoramic picture - and let us know what you think? Thanks! In today's Back Ah Yawd, Delroy continues his conversation with David at the Wednesday's Negril Nite Out Party at Central Park, across from Mariner's Inn. Click on Back Ah Yawd to see what's up!
At 9:55 am, a warm early morning rain! The temperature is 75° F, 24° C.
Click here for Translation






© Copyright 1997. Beingee's. All Rights Reserved.