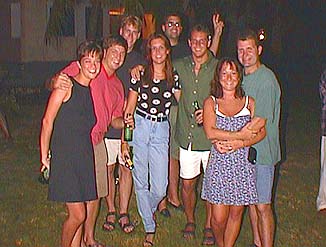 Fitz and Friends
December 13th, 1997
It must be getting cold in Columbus, Ohio, USA because Negril was taken over last week by the crowds of people from the Ohio capitol city. Yesterday we featured Debby and Bill, and today we have Fitz and his party crew having a great time at last Monday night's Yellowman - Gregory Isaacs Concert at Hotel Sam Sara. I hope you guys are keeping warm up there in Cowtown! News: we are experimenting with Real Audio files and we'd like your opinion. Click here to see last Thursday's John Canoe Mascarade page - but it's been changed to upload a much smaller RealAudio sound clip (16K vs. 132K). Let us know what you think mon! Thanks! Back Ah Yawd moves on to Wednesday's Negril Nite Out Party at Central Park, across from Mariner's Inn on Negril's famous West End. Click on Back Ah Yawd to see what Delroy is doing mon!
At 9:15 am, seas misting on the cliffs! The temperature is 83° F, 27° C.
Click here for Translation






© Copyright 1997. Beingee's. All Rights Reserved.