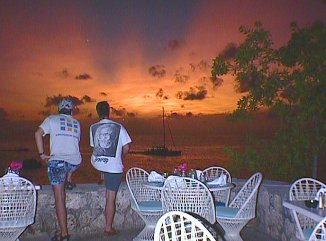 Paul's Sunset
December 7th, 1997
Our entry for Sunday Sunset of the Week was taken last evening at the restaurant at Xtabi overlooking the magical cliffs of Negril. This near psychedelic sunset is being taken in by Paul (left) and Todd (wearing the legendary Jerry Garcia proudly on his back). Paul planned this entire trip for his friends to Negril using our website - he booked Xtabi directly online from our Where To Stay section! We would like to give him a personal thank you - and a special downloadable larger version of today's picture - suitable as a background - click here mon and enjoy! (convert the JPG to a BMP first...) Today's Back Ah Yawd continues at the fresh fruit stand at the Fi Wi Vendor's Plaza. Click on Back Ah Yawd for more mon! Irie.
At 8:45 am, blue and warm... The temperature is 75° F, 24° C.






© Copyright 1997. Beingee's. All Rights Reserved.