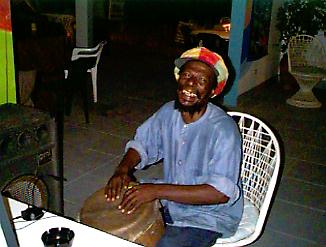 Rasta Early
May 6th, 1998
Rasta Early was our guest performer last night as we had a great time with our Internet friends at the Pub Crawl 2 on Tuesday at Travellers. Both those who attended in person and joined us online on the NEN (Negril Entertainment Network) heard some inspirational drumming that set your soul right! Yah mon, it was a great night so be sure to meet us online again at our Thirsty Thursday Pub Crawl - starting around sunset at Jamaican Price Restaurant on Negril famous West End. Back Ah Yawd on break working on a new story line, soon come mon! In the meantime, you can check out the any of our past 1997 Negril Today pages including the Spring Break pages in our Reference section - if you haven't already, give it a click!
At 9:17am - a calm, sparkling sea. The temperature is 85° F, 29° C.
Click here for Translation






© Copyright 1998. Beingee's. All Rights Reserved.