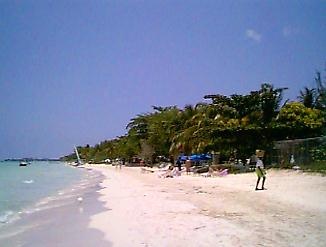 Beach Scene
May 5th, 1998
It is a perfect day on the beach as this picture taken today at noon clearly demonstrates. It's just another day in our tropical island paradise. Be sure to join us tonight for our Pub Crawl 2 on Tuesday at Travellers Beach Resort, starting around sunset. If you aren't able to meet with us in person at Travellers, be sure to join us on the NEN (Negril Entertainment Network) Tuesday night and chat with us! Details will be posted on the Negril Message Board! Note: Sunday will be a very special Mother's Day in Negril, the Chamber of Commerce is celebrating 15 years of community service! Starting at 11:00am at the Long Bay Beach Park, celebrate musical heritage of Jamaica (performed by school children), a steel drum band and an international food cook-off featuring cuisine from all over the world (tickets are JA$250). See you there! Back Ah Yawd is working on a new story line, soon come mon! In the meantime, you can check out the any of our past 1998 Negril Today pages including the Spring Break pages in our Reference section - if you haven't already, give it a click!
At 12:56pm - the sun is high overhead. The temperature is 86° F, 30° C.
Click here for Translation






© Copyright 1998. Beingee's. All Rights Reserved.