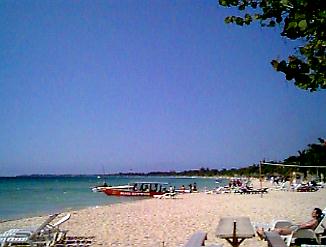 It's Just Another Day
May 7th, 1998
It's just another day in Negril. Lying on the beach, playing volleyball, taking a glass bottom boat ride, splashing in the Caribbean. Like I said, just another day in Negril! Well, it's not just any day in Negril - it's our day for the Thirsty Thursday Pub Crawl which will start around sunset at Jamaican Price Restaurant, located between MXIII and Mi Yard! Chat and listen to us on the NEN - check the Negril Message Board this afternoon for details on how and when to join us. Back Ah Yawd is still on break - it will be back soon! If you still want more to click on, be sure to check out the Entertainment section for our continuously updated Shows & Events listing and to see the performers - click on The Entertainers (audio clips available for selected artists).
At 9:12am - beautiful blues! The temperature is 83° F, 28° C.
Click here for Translation






© Copyright 1998. Beingee's. All Rights Reserved.