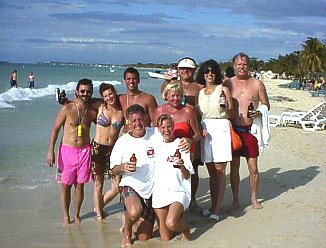 Ted and Amy's Day
January 5th, 1998
Today we would like to wish the newlywed couple Ted and Amy (front) a long and happy life together - they were married this past week at the Negril Tree House. They told me last night that they had a beautiful ceremony and had a great time in Negril! They also wanted to pass along a tip to all their friends at the Main Street Blues Bar in Cincinnati, Ohio. The best place on the beach for an inexpensive beer is Firefly! Hmmm, this tip should work out well for all the Spring Breakers coming down here in March...
Back Ah Yawd is back today, Delroy and the Jerkmon are discussing the upcoming Lady Saw concert at Roots Bamboo. Click on Back Ah Yawd for more!
At 10:16am, bright and blue! The temperature is 82° F, 28° C.
Click here for Translation






© Copyright 1998. Beingee's. All Rights Reserved.