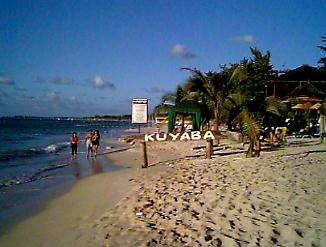 More Beach Days
December 4th, 1998
Beach life can be as easy a stroll along our beautiful seven miles of soft white sand. This picture was taken two weeks on the beach at Sea Gem and Kuyaba. As you can see in the picture, Kuyaba (the great restaurant at Sea Gem) has put back up their famous Kuyaba canoe. Kuyaba removed the canoe as a precaution just in case Hurricane Mitch had made it to our Caribbean shores. If you check back on the Special Edition Negril Today page you will notice that the canoe had been removed from the posts that it sits on. And as you can see, it is now back as one of Negril beach's landmarks! Daily music news: By now most of you are aware that the NEN duties are being handled by Preachermon and Funny Face, seeing as I am back stateside visiting my parents before the holidays. A Big Up to Preacher and Funny Face for their great efforts so you can enjoy the sounds of the Negril Yacht Club in the evening and WEST104 from Eddie's Tigress II, Negril one and only radio station in the morning. Expect more this holiday season from the Negril Entertainment Network as I will be returning shortly from the States with a few surprises! Until then - keep tuned in to the NEN. And as always, check the Negril Message Board for details on how to join in and watch, listen and chat live with the NEN! Irie!
At 1:40pm - afternoon on the beach. The temperature is 88° F, 30° C.
Click here for Translation







This page is sponsored by Catcha Falling Star on the majestic cliffs of beautiful Negril Jamaica. If you like this website, be sure to book your next visit with Catcha Falling Star - just click on the link to take a tour of the property! And be sure to let them know you saw them on Beingee's! If you want to be a sponsor, bemail us. Thanks!
Other area to visit in Jamaica:

© Copyright 1998. Beingee's. All Rights Reserved.