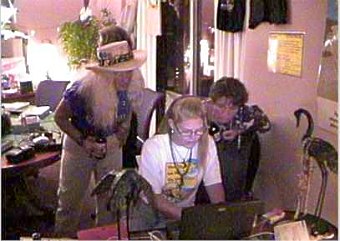 St. Louis Krewe in Action
December 3rd, 1998
Today's picture was taken in St.Louis, Missouri, USA at the St. Louis Krewe's Bashment! ffCindy, Root Ann and Dixie are are shown here around the computer chatting with the NEN (Negril Entertainment Network). It was quite a party as you can find out at Webmaster Jab's website, http://members.tripod.com/jamman2. We want to thank them for joining the NEN broadcast and thank Jab for posting his pages! Daily music news: This morning's WEST104 broadcast was postponed by technical problems (which should be resolved my tomorrow). the broadcasts are courtesy of the Negril Cyber Cafe at Eddie's Tigress II. The NEN will be broadcasting tonight from the Negril Yacht Club so be sure to tune into the fun! Check the Negril Message Board for details on how to join in and watch, listen and chat live with the NEN! Irie!
At 6:00pm - the sun has set... The temperature is 77° F, 25° C.
Click here for Translation







This page is sponsored by Catcha Falling Star on the majestic cliffs of beautiful Negril Jamaica. If you like this website, be sure to book your next visit with Catcha Falling Star - just click on the link to take a tour of the property! And be sure to let them know you saw them on Beingee's! If you want to be a sponsor, bemail us. Thanks!
Other area to visit in Jamaica:

© Copyright 1998. Beingee's. All Rights Reserved.