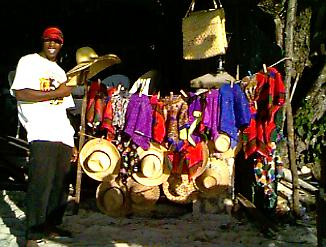 Visor Guy
December 2nd, 1998
In Negril you can find very interesting and and even utilitarian items to purchase while on your tropical vacation. You can find great people selling great things on the beach and the cliffs and one of the personalities you can meet on the Negril beach (near DeBuss and SeaGem) is a man known as the Visor Guy! He received this nickname because he sells not only straw hats but also a unique head wrap - a scarf-like piece of fabric that has a visor attached to the front (Visor Guy is wearing one). They come in a multitude of colors - stop by and say hi on your next visit to our wonderful beach in Negril. In addition to addin our latest Beingee's sponsor, Banana Shout, we have more news! Courtesy of the Negril Cyber Cafe at Eddie's Tigress II, the NEN will be broadcasting Negril's first and only radio station - WEST104 located at DeBuss! The viewers (and listeners) the NEN (Negril Entertainment Network) will be able to listen to 6 hours of music and more each morning from WEST104 until the 16th of December. Be sure to tell all your European friends to tune in to www.negril.com. In addition, the NEN will be broadcasting six nights a week from the Negril Yacht Club. Keep checking the Negril Message Board for details on how to join in and watch, listen and chat during all the pre holiday festivities on the NEN! Irie!
At 5:27pm - as the sun sets... The temperature is 77° F, 25° C.
Click here for Translation







This page is sponsored by Catcha Falling Star on the majestic cliffs of beautiful Negril Jamaica. If you like this website, be sure to book your next visit with Catcha Falling Star - just click on the link to take a tour of the property! And be sure to let them know you saw them on Beingee's! If you want to be a sponsor, bemail us. Thanks!
Other area to visit in Jamaica:

© Copyright 1998. Beingee's. All Rights Reserved.